Intruder Alarms
Intruder Alarm Systems
An intruder alarm is installed with two clear objectives, firstly, to deter crime and secondly, to provide a notification that a premises has been illegally entered. Occasionally there is a third aspect, to provide a panic button to create an alert when a person(s) are directly threatened.
However, not all systems are equal. A professionally installed Pyrotec system is designed and installed to the latest British, European and Police standards and provides peace of mind that your property is properly protected in your absence.
To determine your requirements, an experienced Pyrotec surveyor will visit your premises and advice on the best solutions and equipment available.
Information for determining an Intruder Alarm Systems
Risk Assessment and Alarm Grading
The starting points for any professionally installed alarm system is assessment of the risk of break-in and providing the appropriate system Grade. This is usually determined in one of two ways; Insurance company requirement or location survey. In either case Pyrotec provide a free survey which will determine the technical aspects of the installation.
The grade of intruder alarm system may be particularly important if you are depending on the alarm system for insurance cover. Insurers may specify a particular grade of system or aspect of design depending on the nature of the risk you are aiming to protect.
An overview of the grading system levels detailed in BS EN 50131- 1 is given below:
Grade 1 – Low risk
Intruders are expected to have little knowledge of the alarm system and may be restricted to a limited range of easily available tools. Please note, Pyrotec do not install these systems.
Grade 2 – Low to medium risk
Intruders are expected to have a little more knowledge of the alarm system and use a general range of tools and some specialist equipment.
Grade 3 – Medium to high risk
Intruders are expected to be conversant with the alarm system and have a comprehensive range of tools and portable electronic equipment.
Grade 4 – High risk
To be used when security takes precedence over all other factors. Intruders are expected to have the resources to plan an intrusion in detail and have a full range of equipment, including the means to substitute vial components in the alarm system.
Most domestic installations will require a Grade 2 with larger homes possibly falling into Grade 3. Most commercial premises will require a Grade 2 or 3 system. The majority of insurance companies require a Grade 3 system where the system is a requirement of insurance cover.
Wired or Wireless
Although there are many variations in detection devices (PIRs, DualTec, door contacts etc.), there are two ways of installing intruder alarm systems, Wired or Wireless:
Wired alarms comprise a number of electronic sensors that are connected to a control panel by low-voltage wiring and are governed by a certain series of British Standards.  Ideally these are installed into new premises during the building works or during refurbishment as it is more convenient to run the wiring at these times.
Alternatively, wireless alarms as the word suggests, use battery powered sensors that are 'connected' to a control panel by narrowband RF signals (radio signals).  These systems are still governed by British Standards but may be limited in the final system Grade (usually Grade 2).  The benefits are they are quick to install and cause minimal disruption to existing decor.  The minor downside is that the sensor batteries have to be changed from time to time.
Alarm Signalling and Monitoring
When a bells-only (or audible alarm) system is triggered, it makes a loud noise, which will hopefully alert someone in the area to the situation and/or scare off an intruder. However, unlike a monitored alarm or one with a speech dialler, it won't automatically contact a named person or the police.
Monitored systems, unlike Bells-only are designed to alert someone in the event of an activation and have three main categories:  a speech dialler, a keyholder contract or a police contract.
A non-contract option is a speech dialler, this is a device built into or connected to a wired or wireless alarm. The idea is that when the alarm goes off, the speech dialler will call a set of pre-programmed phone numbers of your choice, for example family members or your mobile, until it gets an answer or can leave an automated message.
There are two types of contract monitoring: Keyholder and Police Response. With both types there is an annual cost to have your alarm system monitored, the benefit is that a nominated keyholder or the police will be alerted when the alarm goes off.
Keyholder monitoring is done through a company (ARC alarm receiving centre), which will contact your nominated keyholders. The added benefit is that the communication path i.e. phone line or GRPS, is automatically checked to ensure it is still working.
Police monitoring, in addition to the receiving centre contacting your Keyholder, they also contact the local police force via direct access to their dispatch control.
Standards
There is a comprehensive range of British and European Standards that govern the installation of intruder alarms, especially those requiring police response, Pyrotec are a NSI GOLD accredited installer and are audited to ensure compliance to these standards.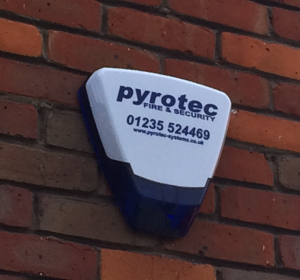 Call us now for a free no obligation survey and quotation on 01235 524469