Access Control

Access Control Systems
An access control system quite simply allows you to control who has access to your premises. Access control systems can operate doors, gates and barriers and are available in various installations such as telephone and video entry systems or computer-controlled systems operated by magnetic cards or proximity readers.
Systems can be installed in a variety of premises including offices, factories and industrial sites, schools and colleges, hospitals, hotels and care homes. An access control system can also be connected to Building Management Systems (BMS) or CCTV system or intruder alarm to provide an integrated security solution.
How does an access control system work?
There are three types of access control system:
A door entry system which enables visitors to contact the premises occupant who will grant or deny access. These systems can be audio only or include video images of the visitor at the door. Door entry systems are often integrated it to access control systems.
A standalone system which is the simplest, most cost-effective system. This type of system may be used to control access on one or many independent doors in a building. Access is gained by using a numeric code, or PIN with a keypad, or by presenting a proximity or magstripe token, depending on which type of reader is fitted. These systems are programmed at each door. If tokens need to be barred or codes changed, this action must be completed at every door on the system.
Typical applications
Small business premises
Sports clubs
Storage units
Any small or medium sized site requiring access control
Standalone systems are great for smaller sites with a relatively small number of users, token management is simple, and the system can be extended easily as your requirements change.
A PC-networked system referred to as 'PC based' or 'Networked' access control, these systems may be used to control one or many doors in a building.
Access is gained by using a numeric code, or PIN with a keypad, by presenting a proximity or magstripe token or by 'possession' with hands free tokens depending on which type of reader is fitted. PC based access control offers central control, via a network.
This means that commands given at the PC are sent to each of the doors. A token can be barred from all of the doors instantly. Another benefit of this type of system is flexible control, allowing you to grant different permissions for individuals or groups of users.
Reports may also be generated to see who went where and when. Many systems allow control of additional buildings via existing LAN/WAN. PC based systems are increasingly being used to control other services within buildings, for example intruder alarms, fire doors, lifts and lighting.
Typical applications
Small/medium premises
Large corporate premises
Multiple-site premises
Government buildings
Universities
Sports clubs
Car parks
PC based systems are great for medium to large sites as they make managing large numbers of doors and users easy. The system can be extended very easily, and advanced features such as event reporting and integration with CCTV and other systems make such a system much more than just a replacement for a bunch of keys.
Each system enables complete control over who can access buildings and sites and specific areas can also be set up to be accessed by selected people.
Access Control technology is always evolving with developments in Biometric reader technology and building management integration, our surveyors will attend site to conduct a free survey, discuss your requirements and provide suitable options to fit your needs.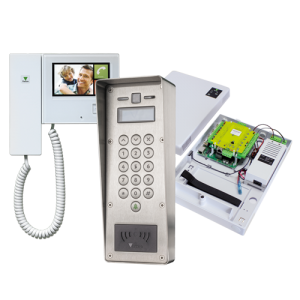 Call us now for a free no obligation survey and quotation on 01235 524469